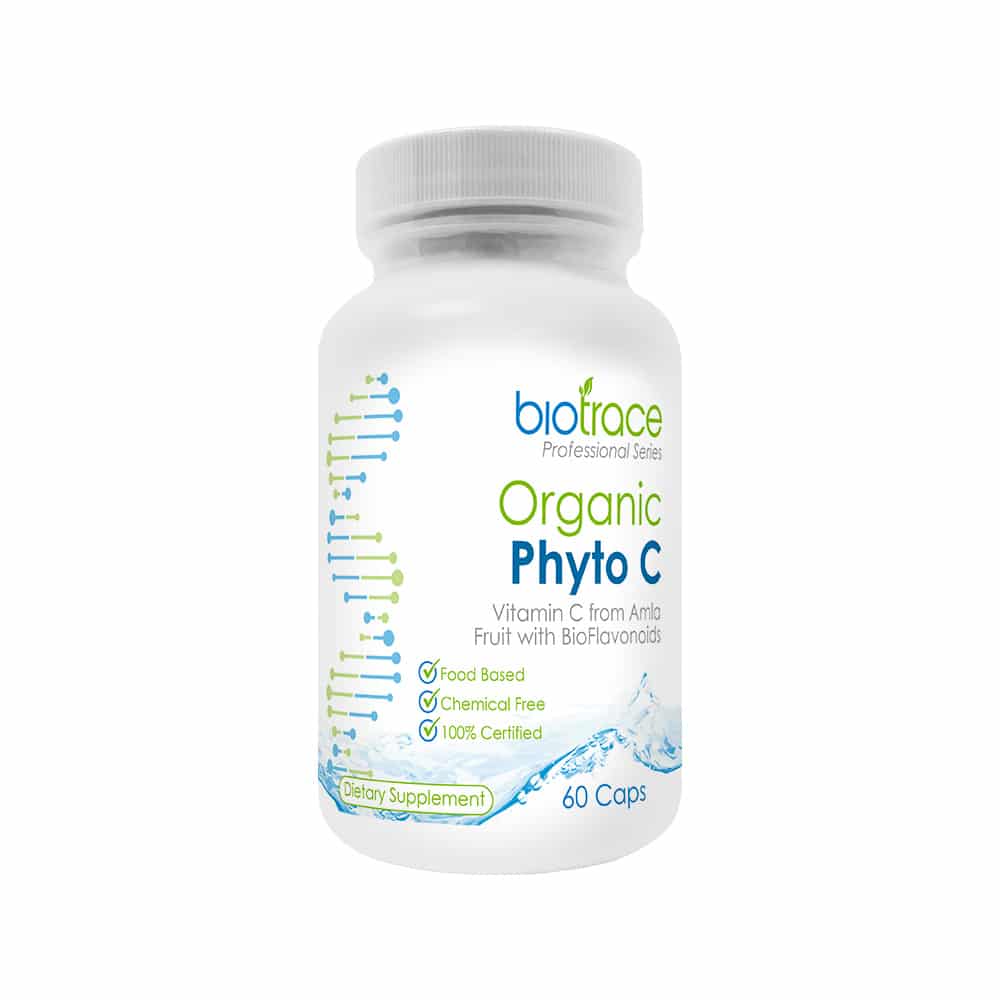 BioTrace Organic Phyto C
$52.00 inc GST
Product Summary
BioTrace Organic Phyto C is a rich and natural food‐based form of Vitamin C sourced from the berries of the Amla tree (Emblica officinalis).
More Information
Traditionally used for bowel health, Amla may not have the bowel intolerance issues associated with other vitamin C supplements.
One Amla berry contains as much vitamin C as two oranges and is also rich in nutrients such as calcium, magnesium, iron, zinc, B vitamins and antioxidants.
Amla is a popular remedy in Ayurvedic medicine to support energy, immunity, longevity and optimal health.
An increase in free radical generation or an impaired antioxidant mechanism is known to result in oxidative stress. Oxidative stress is often implicated in poor immune system function.
Glutathione is an important antioxidant that supports the body's defences against reactive oxygen species (ROS) like free radicals, peroxides and heavy metals. Scientific research suggests that Amla may support healthy glutathione levels.
Amla is commonly used in traditional Ayurvedic medicine to support healthy brain and nervous system function. Scientific research has demonstrated Amla's ability to support the brain's defences against oxidative stress.
100% natural, food‐sourced vitamin C from Amla berries
Without the bowel tolerance issues of some other sources of
vitamin C
Amla is rich in antioxidants, B vitamins and minerals
May support energy, immunity and brain health
TAPS PP9847
In stock
Serving Size 2 Capsules
Vitamin C
250 mg
(from organic amla fruit extract [Emblica officinalis])
Citrus BioFlavonoids
50 mg
Other Ingredients: Vegetable capsule, rice flour.
Suggested Use: Adults take 2 capsules daily with food, or as directed by your healthcare practitioner.
Supplementary to a balanced diet
Always read the label. Use only as directed.
Keep all medications and supplements out of reach of children
If symptoms persist see your health professional
Do not use if seal under cap is damaged or missing
Nutritional supplements should be stored in a cool, dry place, with caps tightly closed, and out of reach from children. Take only as directed.